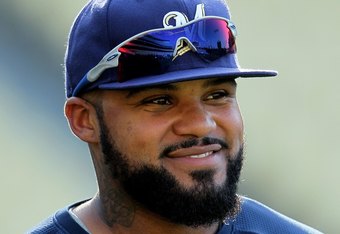 No baseball fan can feign lack of information when it comes to Prince Fielder. This relatively fresh major league baseball player has made quite a name for himself in a considerably short duration. From his personal life to his sense of style everything is constantly under the radar. For all his fans, here's what you need to know about his selection of eyewear.
Fielder's love for Oakley's is hardly hidden. Seen with these premium sunglasses, this star player for the Texas Rangers has wowed spectators time and again. Specifically, Fielder uses Oakley Radar Pitch shades. Here's a lowdown on these amazing shades:
With their popularity only going upwards with time, Oakley Radar sunglasses have the perfect combination of all the elements that make these eyewear something you can take out and enjoy with. The masterfully created glasses offer pitch lenses that have a subtle curvature at their bottom that gives clearerand wider viewing angle and also enhances the downward vision. To increase your comfort even more, these glasses are equipped with Unobtanium ear socks and nose pads that create a stable and firm grip even during excessive perspiration. The next time you go trekking, opt for the durable and highly good looking Oakley Radar sunglasses and stand out amongst your friends.
The frames for these amazing shades are made using O-Matter tech that makes them light weight and suitable for consistent use and long lasting comfort. Oakley Radar Pitch sunglasses are sold in attractive sport soft vault carry pouches that protect these shades and also add a unique style quotient. Another thing that sets these stylish shades a class apart from others in the market are the various surge ports created on various parts of the glasses to provide better airflow and offer a light, cool breeze on the face consistently. This makes these Oakley Radar sunglasses something you would definitely want to have before you embark on any high-octane activities.
The makers have installed the effective Three-Point Fit technology that brings a precise, optical alignment to the lenses and also adds a secure fit against the frame. The secure fit not only adds comfort while you put them on, but also removes the pressure points that are formed in frames that hook the ear. This added level of comfort brought to you by these sunglasses is one of the biggest reasons for their continuous popularity amongst the enthusiasts.Opt for the customized version of these shades and get them made according to your individual requirement and style quotient or go for the exact same variant as Prince Fielder to emulate his style.