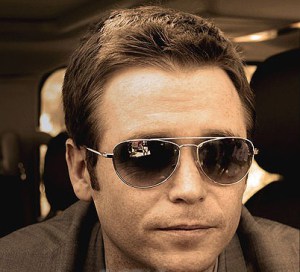 Eric, more famously known as E has been seeing some pretty heavy drama the last season of Entourage. It's no wonder that his personal style has been all over the place. But cut back to early episodes during the season and the dude sure rocked his aviator sunglasses.
The pair that won E most hearts and a larger fan base is the Hagen Midnight Exp. Polarized Lens in Silver from Mosley Tribes. This is a universal unisex line, so both men and women can celebrate. This particular pair of retro-spec aviators is both functional and modern. The polarized version is spectacular in reducing glare.
Mosley Tribes bless the sunglasses they produce with chic and classy frames that sit pretty on almost every face type. E's favorite pairs of Mosley Tribes Aviator style sunglasses come in silver frames with polarized lenses. Another popular option is the style with Gold frames, with polarized or photochromic lenses. The rose gold frames that hold pink quartz mirrored photochromic lenses are especially cool and rock this style.
The style that E popularizes in Entourage is handcrafted and comes with air tech nose pads, so the fit is perfect as it sits stylishly perched on your nose. All Mosley Tribes sunglasses use high tech lenses that suit the busy modern lifestyle. The style that E patronizes uses VFX signature lenses that are renowned for enhancing contrast color. The lenses also reduce glare and protect you from harmful UV rays. An additional non-reflective coating sharpens vision. They also use light weight and durable material for their frames. The result is that you see things a lot more clearly than most sunglasses typically provide for. This also means that you have less eye fatigue or eye strain when you sport an exclusive pair of Mosley Tribes.
This brand has come into the spotlight with E's addiction for their aviator pairs. Yet, if you look around, this brand has always attracted celebrities in hordes. Popular styles include the Patterson, Becker, Chambers, Enforcer and Aviatrix styles.
Click below to Shop MOSLEY TRIBES Sunglasses:
What most people don't know is that Mosley Tribes is originally owned by Oakley, a top brand renowned for manufacturing high performance and high fashion sunglasses. Their products are sporty, chic and unapologetically stylish. Mosley Tribes sunglasses seamlessly blend timeless quality with modern and urban aesthetics. A good pair of Mosley Tribes ranges from $150 to $350 USD. On the higher end of the price range, they can be considered awfully affordable when you recognize that you're getting an unmistakable style statement that is well worth paying for. Surprisingly, their sunglasses are relatively hard to find online. So if you find a reputed dealer that sells exclusive Mosley Tribes sunglasses, grab on to it with both your hands, and hang on to them real tight!