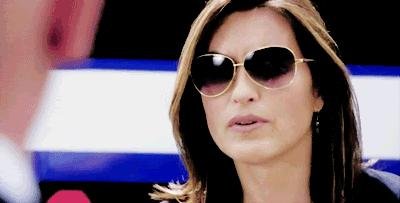 Detective Olivia Benson is a fictional character, which appears in the NBC drama series, Law and Order – special victims unit. She at first investigates all her cases along with detective stabler. Later she is promoted to the position of sergeant after passing the appropriate exams and then has some detectives working under her. The team specializes in solving sex crimes.
As is evident from the characterization the role of Olivia is a serious role and the eyewear chosen for it accentuates it nicely. The role of Olivia Benson is portrayed by actress Mariska Magdolna Hargitay and the glasses worn by her in the series in question is modo for Jennifer creel talitha blue sunglasses.
This particular brand and model of specs suits the serious role of sergeant and also matches the fair complexion of Mariska Hargitay, who acts the part. The spectacles add a sparkle to the light and radiant skin tone of the actress in the series. Magdolna has a squarish plumpy face. The Talitha Blue spectacles is definitely a good choice because it fits Hargitay's face to a T. No eye make up is necessary for the star, since the glasses itself does justice in that regard.
In playing the part and character of Olivia, Mariska, performs several stunts. All through this action the eyewear stands sturdy and strong. It provides a daring and bold look to Mariska, which she certainly needs,while playing the part of Olivia.
The fictional character is not only a determined and focussed woman, but also an emotional one. Here again, we can see the sunnies coming into the picture because they not only give a distant and cold look but also seem to bring out the warmth and concern, which the actor feels for the sex crime victims. In the scenes where as a sergeant, Olivia brings the offenders to task, she is strict and straight forward. This character of a dutiful official is only complimented by the chosen eyewear. The natural tint color of the coolers adds a humane touch to Mariska's countenance .
The frame and the lens of the glasses in focus is not thick and dark, but has a pleasant and vibrant tinge, which in turn succeeds in augmenting the sincere and honest appearance of the sergeant.
In conclusion, the modo Talitha blue sunshades bring out the serious and courageous, yet empathetical personality of Olivia to the fullest extent possible. Thus, these sunnies serve as the perfect accessory to Mariska in Olivia's role.