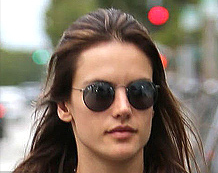 Round Ray-Ban sunglasses have been hot for quite a while, and with celebrities like Emily Ratajkowski and Alessandra Ambrosio keeping them in the spotlight in photo-shoot after photo-shoot, there is no sign of them cooling down any time soon. Mirrored lenses, meta frames, high quality design, crystal arm ends, superior craftsmanship, and plenty of customized options, it is easy to see why the Ray-Ban is still one of the leading examples of superior design. They combine quality and excellence with comfort and elegance in such a way no other brand has even come close to duplicating it.
Ray-Ban is indeed one of the world's most iconic eyewear brands; for years it has held its spot at the top as the global leader in sunglasses. Every model offered in any of the Ray-Ban collections is the result of precise, original and superior design and craftsmanship, which is why Ray-Ban has been hailed as best of the latest fashion trends for millions of satisfied customers worldwide. From one of the originals, the Aviator style of 1937, to the timeless Wayfarer of 1952, Ray-Ban has becoming synonymous with America pride, individuality, elegance, power, style, and authenticity. Ray-Ban sunglasses have adorned the faces of countless celebrities on and off the big screen, on the red carpet, in countless photo-shoots, and every day activities for those in a position of power and influence. The full collection of Ray-Ban styles always echos back to the long line of classic heritage while still evolving and adapting to meet the ever-changing fashion demands of today's society.
Round Metal frame sunglasses are not just iconic, but they bring any personal stye a flare and unique boldness that can only be achieved with their dark lenses and a slim frame. The Round Metal Ray-Ban continues to be the go-to sunglasses for big name celebrities, and the best part about this icon brand is that they are available to you as well! Yes, you too can look and feel like a celebrity every time you walk out of your door or step out of your car when you are wearing a pair of Ray-Ban shades. Choose from a variety of trendy styles for frames and lenses and make your style irresistible!
It's all about the RAY-BAN 3447 round sunglasses for models & celebs alike. This frame is pure style and class which will always be in style. It is available in many different lens options from polarized lenses to mirror lenses to give you the look and features you want in a pair of sunglasses. Ready to rock the look? We think so.