If you're a sunglass freak like me, the new Panama style from Retro Super Future is one that has to be in your arsenal. Round sunglasses are in but this style is just pure style, class and fashion. I'm first in line when they get in.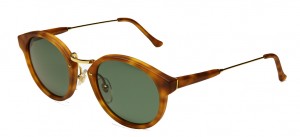 From the RetroSuperFuture blog:
"The Panamá silhouette set the basis and standards for all of the sunglasses developed in this Autumn Winter 2011/2012 collection. A variation of 4 colorscover the entire evolution of the season. A result of much research, the metal and acetate are the perfect synthesis of the Super aesthetic for Autumn 2011: unique, recognizable, eternal. In spirit, Panamá evokes within all of us the desire for escapism from everyday life, perhaps an imaginary haven with which you are transported when a single ray of light reflects on your face."
At first look, you can't help to think of the classic Steve McQueen PERSOL sunglasses with the circular shape that has that very classic iconic look. However, if you know about RetroSuperFuture, they very much have a style and feel of their own. The similarities is that they both are handmade in Italy and I believe both are made from Acetate which is a strong durable material.
CHECK OUT OUT! ——> RetroSuperFuture Panama