For decades, Ray-Ban has kept redefining eyewear trends, with the ideal comfort and unmatchable quality. Perhaps the most popular of all their sunglasses is the retro inspired Clubmaster. The Ray-Ban Clubmaster classic, with its timeless design inspired by the 50s, sets it apart from all others, giving the wearer a sophisticated look that has worked well for years.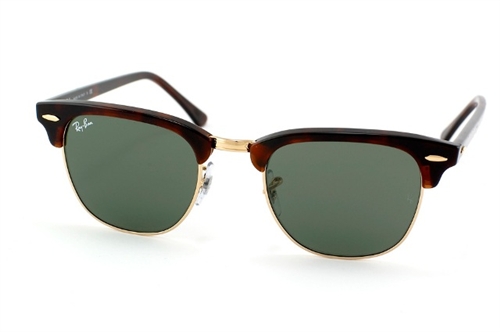 Lenses and Colors to Choose From
The Ray-Ban Clubmaster sunglasses come with a choice of the following lenses; each type has its own unique benefits and come with unique color choices.
Classic: With solid colors, the classic lens fits well on the Clubmaster classic sunglasses. They are comfortable, offer visual clarity and great eye protection. The classic lenses come in green or brown colors.
Gradient: These come in a wide range of colors that create looks that are both unique and exciting, according to the latest fashion trends. Choose from gradient dark grey, or dark brown colors.
Polarized: These reduce the brightness of objects that are, or appear to be, too bright or shiny. In other words, polarized lenses give clarity in vision and reduce pressure on the eyes. Color choices include grey, light blue, light grey and pink.
Flash Lenses: These have a mirror coating that makes your vision more comfortable by reducing glare and provides an edge to your look that simply cannot be ignored. The colors available in these lenses are blue, silver, and green.
Choose Your Size for the Perfect Fit
People who buy the Ray-Ban Clubmaster classic can choose between the standard size (49-21) and the large size (51-21), depending on the size and shape of their face or whether they prefer large or regular-sized sunglasses. However, because of their standard size, these wayfarers are better suited for people with smaller face frames.
The Bold, Classic Look
Clubmaster by Ray-Ban represents more than just sunglasses; they showcase an entire era of fashion, and give their wearer a sophisticated look that makes them stand out from everyone else. In short, Ray-Ban Clubmaster does not complete any look you are trying to achieve; instead, these sunglasses have their own distinctive look.
With their one-of-a-kind design, a thick black bold frame, with metallic gold rims and rubber nose-pads, these sunglasses will make you look as bold as you want to be. You can also choose between glossy or matte frames. What's more, these frames are customizable and you can engrave any words you want on them, making your pair of sunglasses more personal.
Since they are manufactured by Ray-Ban, the Clubmaster sunglasses are extremely durable and come with a warranty. They also come in Ray-Ban's iconic leather cases, which could be black, brown, or red in color
The Ray-Ban Clubmaster sunglasses are just one of those fashion accessories that keep finding their way back into latest style trends and will always remain in style. Therefore, getting a pair of these Ray-Ban sunglasses is a great way to create your unique, classic personal style statement.