Theres plenty ways of organizing your sunglasses – here at ShadesDaddy, we have an easy and effective way for you to organize your sunglasses by simple putting them on a hanger. You must do this carefully to ensure theres no scratching on the frame but it works!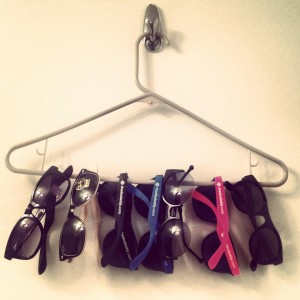 It's easy to let your jewelry, scarves, sunglasses, and other accessories turn into an unorganized nightmare. But if you take the time to organize your accessories, you can make the most of what you have and keep your room looking a lot neater. Here are the steps to organizing your jewelry and other accessories.
Step 1: Assess What You Have
Clear a horizontal surface such as a bed or table, and dump all your accessories on it. Make separate piles for scarves, necklaces, bracelets, belts, etc. Put the accessories you'll never wear into a box or bag so you can donate them to a local charity thrift shop.
Step 2: If You Have Vertical Space
You can use empty wall space to organize accessories. If you can find a large, empty picture frame, you can hang it on your wall to block off the space where you're going to hang up your accessories. Buy a sufficient number of non-permanent hanging hooks like those made by 3M and stick them on the wall inside the frame. From these you can hang necklaces, scarves, and belts.
Step 3: If You Have Horizontal Space (Drawers)
Measure your drawers so you'll know what size containers will fit. Then head for your local dollar store or mass retailer and purchase several drawer organizing containers to hold your accessories. Many people like clear acrylic containers, and some people prefer to line their drawer with liner paper first. Here's how to use the different shapes:
Circular containers – perfect for rings and earrings

Square containers – great for bangle bracelets

Long, slender containers – ideal for necklaces

Rectangular containers – just right for sunglasses
Once you have everything organized, it will take some effort to maintain your system at first, but once you're used to putting things back where they belong it will be much easier to keep your accessories and jewelry organized. When your storage containers or hooks fill up, it's probably time to go through and see what you can set aside to give away.
Keeping your jewelry and accessories organized saves time every day when you're getting dressed, and helps you put together great looks that are perfectly accessorized. Furthermore, organizing your accessories keeps you from losing them, and helps protect breakable accessories (like sunglasses) from being accidentally sat or stepped on.