When we are buying a new pair of glasses, whether its sunglasses or eyeglasses, we are all looking for a pair which can withhold. The first material you think of is metal or titanium, but models and colors are rather limited with these materials.
One of the most used materials nowadays is plastic; you can get glasses in all colors, styles and textures. The problem is that there are different types of plastic, so what's the difference between regular plastic and acetate?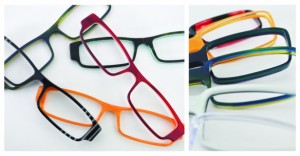 The main difference is the durability, acetate plastic glasses are a lot more durable than standard plastic. This type of plastic is extremely light weight and has good flexibility to it. Acetate frames are carved out of rich colored blocks some of which have patterns embedded to it, while standard plastic has to be spray painted in order to achieve patterns or shine they also tend to brittle easier.
There you have it, the difference between the two plastics, at the end of the day it depends on what you're looking for.