If you love Carrera sunglasses because of their classic retro frames styles and colors, you'll be sure to love the Carrera Turbo/S. This is a new model from Carrera that offers great style. Just take a look at these chic frames and how cool they are.
The Carrera Turbo/S is an aviator metal frame that offers a variety of colors. Carrera also choose to make this frame with polarized lenses which is a consumer favorite due to the lens being of better quality when it comes to sun protection / UV protection. The arms come with plastic tips.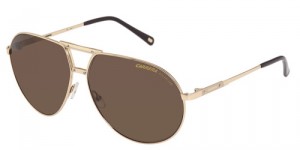 Carrera Sunglasses Turbo/S Gold Frame Polarized
The Carrera brand logo is on left lens and also on the sides of the temples. While a replica of this frame can be out there, having the real deal will set you apart. The Carrera Turbo/S is made in Italy. The temples are made from stainless steel and also offers double bridge protection. The length of the temples are 135mm.
See the Carrera Turbo/S now.