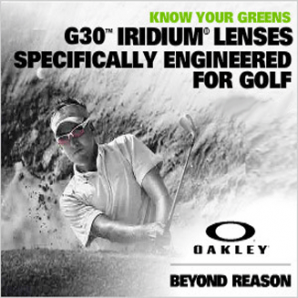 Golf is considered a visually challenging game. A lot of conditions like different lighting, course distances, backgrounds, and wind can impact the performance of a golfer. Expert golfers are of the opinion that there are three areas to which a golfer should pay careful attention, if trying to improve one's performance in the game. The three crucial areas are visual skills, quality of vision, and sunglasses. It is imperative to have a high quality of vision, whether you are an amateur or an experienced golfer. Choosing the right kind of sunglasses is important for golf because it is an outdoor game and different light conditions can have an impact on the game. As far as polarized sunglasses are concerned, for golf there has always been a division of opinion among golfers.
Polarized lenses can be a great choice for golf because they have the capacity to cut out the glare completely when sunlight is reflected off horizontal surfaces. However, there are many who are of the opinion that polarized lenses might create a trouble in reading the greens in the golf course. This is mainly because polarized lenses have a tendency to hinder the depth perception. Hence, many golfers prefer to go without the polarized lenses. At the same time there are many of them who put on the polarized lenses when golfing; it is just that they might opt out their sunglasses. This might create a little trouble for a golfer because if it is too bright outside, a golfer might end up squinting when trying to read the greens.
It is true that some of the golfers prefer non-polarized lenses compared to the polarized ones. However, there is no reason to generalize that all polarized lenses are unfit for playing golf as a lot depends on the brand one uses. There are several brands that manufacture high quality polarized lenses and those may be apt for golf. In case a golfer is seeking a pair of sunglasses, it is recommended to buy those designed specifically for golfers. At the same it is better to get lenses which come with UV protection. So, when one is buying a pair of sunglasses, it is important to carefully check out the product details.
At the end of the day, it is completely the decision of an individual golfer whether to go for polarized lenses or the non-polarized ones. Although a higher percentage of golfers may say that polarized lenses are not much suitable for golf, it is solely an individual experience. If you have comfortably played golf with those polarized lenses then you might as well continue doing so. Just keep in mind to select the right kind of color for your sunglasses.
Our Top Favorite Pick for Golfing Polarized Sunglasses: