One of the popular questions we get here at ShadesDaddy.com is "what is the difference between a regular green lens and a G-15 XLT lens found on Ray Ban sunglasses?" The answer is: none! Green lenses are the same thing as G-15 XLT, the same way brown lenses are identical to B-15 XLT.
Back in early 30's, US Air Force asked Ray Ban to develop a more efficient lens against intense amounts of glare which was causing nausea and headaches to its pilots. Being the company Ray Ban is, of course they not only accepted the challenge, but they were able to come up with and produce a lens that accomplished exactly what was asked of them – a solution to these problems. Consequently in 1937, G-15/B-15 XLT lenses were born.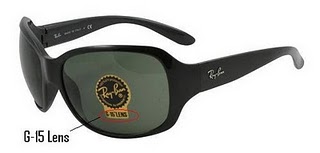 The number part of the code (15) means this lens only allows 15% of light through and it blocks the UV reds and UVB rays from the sun. It is made of impact/scratch resistance optical quality glass and provides 100% Ultraviolet (UV) protection. It absorbs 85% of visible light with 15% transmission allowed. The lenses broadcast colors the same way human eyes are responsive to colors, resulting in natural vision.
Human eyes do not react equally to all colors in the visual spectrum. The eyes are more susceptible to green and yellow wavelengths than to red and blue. Based on this knowledge, the G-15/B-15 lens was formulated to emphasize the colors that our eyes see easier and de-emphasize less useful colors.
Here are some of Ray Ban's most popular G-15/B-15 XLT models:
– Ray Ban Aviator RB3025 W3234
– Ray Ban Clubmaster RB316 W0366
– Ray Ban Predator 2 RB2027 W1847
IMAGE CREDIT TO: ERO SUNGLASSES BLOG