It is important that we select and wear sunglasses that are approved by various standards organizations. Organizations like ANSI and ISO publish various standards for commercial objects. These specifications ensure that the products are made of quality materials with the minimum necessary strength and durability and also confirm to the preset design specifications by the organizations. Nearly all the major brands design and create products that are standards approved, thus confirming to the organizations minimum requirements for quality and strength. Oakley is famous for its trend setting collection of sunglasses that offer superior comfort, vision clarity and protection from the harmful UV rays.
Each of these Oakley sunglasses is made up of plutonite, a form of polycarbonate that makes the sunglasses lightweight and impact resistant. It blocks out 100% UV rays but still maintains the clarity of vision. The racked back and wrapped around design of the glasses also block any UV rays from the corners of the sun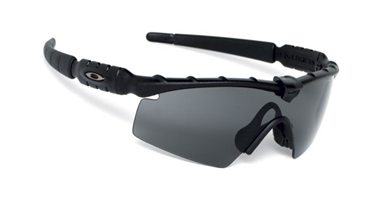 glasses frame. The frame geometry and material used in manufacturing makes it one of the most sturdy sunglasses brands in the market. Their innovative technology and unmatched quality of material make them the best available designer sunglasses in the market.
The sunglasses have a layer of iridium created from super metallic oxides fused with the lens material at a molecular level that optimizes the contrast and minimizes glare. Majority of Oakley sunglasses are made of polarized lens that reflect and distract direct sunlight and block polarized light waves. Its polarization technology surpasses industry standards and thus produces the best polarized glasses. Common polarization techniques like drop forming and lamination can create optical distortion and haziness but the injection-molding process used by Oakley infuses the lens material around the filter, boding it at a molecular level. These materials also make it hydrophobic and oleo phobic. Dirt and dust degrade the visibility and cause damage to the lens. The amalgamation of various metals and alloys make the glasses anti-static and thus dust, dirt and other particles never drawn towards the glass material.
Oakley's sunglasses are ANSI Z87.1 conforming and OSHA approved to maintain high standards of clarity and impact resistance. Its innovative frame geometry and material design exceeds the specifications set by the standards organizations. The special properties of the sunglasses increase the grip when they are wet. Innovative alloys combined with specific nonmetals allow Oakley to produce lightweight high performance eyewear that offer superior protection and comfort to the users. Its unique strength to weight ratio significantly increases its quality, durability and comfort for all kinds of users.