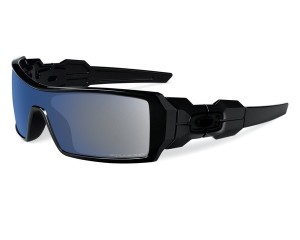 Have you seen the Oakley Oil Rig Sunglasses? It is simply impossible not to fall in love with these classy pair of sunglasses. Oakley has forever been ahead of its time in terms of creativity and utility of its products whether they are lenses, sunglasses or customization options. Oakley Oil Rig is an outclass creation that delivers style, protection and superior quality bundled in the same package.
Oakley Oil Rig is from Oakley's menswear collection and has received 5-star appreciation from most of the users around the world. Here are a few reasons that may have contributed towards this popularity.
Superior Design
Oakley Oil Rig is a revolutionary pair of sunglasses that defies traditional architecture and style. It is a single lens curved frame that was considered as an impossible creation until Oakley's Oil Rig. The frame has been sculptured in such a way that it minimizes the amount of light reaching the eye from the "unprotected corners".
The curved frame has the tendency to fit most faces without looking too large or too small. The broad arms of Oakley Oil Rig sunglasses provide a comfortable and secure grip. At the same time, these also prevent the light from entering your eye from the sides for greater eye comfort and protection.
Lens Features
Oakley Oil Rig's lenses are made from Plutonite® – Oakley's signature lens material. In addition to this, the lens has been enhanced with High Definition Optics®, XYZ Optics® and Polaric Ellipsoid™. This means visual clarity and protection at all angles of the lens despite the curvature. Plutonite® has the capacity to block out all harmful ultra violet radiations and unfavorable light wavelengths that can harm your eyes.
You can customize the lens to enhance their utility. You can opt for the Iridium® lens coating that improves contrasts while reducing glare up to 99% for greater visual comfort.  It also helps in truer color perceptions so you can enjoy your surroundings in their real appearance even during the brightest eye-cringing summer days!
You can also go for the polarized lenses to maximize the performance of your sunglasses.
Stylishly Innovative
The single lens of Oakley Oil Rig sunglasses is extremely stylish and creative. On top of this, the seamless curvature that seems to fit every face makes it a popular choice among most people. It is the perfect way to make a style statement that talks about your brighter side and makes you look effortlessly fantastic!
It is the perfect accessory to be worn on friendly hangouts, beachside parties and other similar events where you would like to look your best. At the same time, it makes no compromise on your eyes' safety and ensures it is protected in all possible ways.
The frame has been fashioned from Oakley's O Matter® material that is light weight and durable. This stress resistant material makes Oakley Oil Rig Sunglasses the perfect eyewear to wear all day long! Try it out for yourself to find out how it suits you! BUY OAKLEY OIL RIG.