Looking for a pair of Oakley that has a shield rectangular shape and great for outdoors and beautiful design? Check out our OAKLEY BATWOLF SUNGLASSES review. We'll feature sizing (fitting,) information along with features and see if the Oakley Batwolf is the perfect frame for you!
FIT INFORMATION
STYLE: RECTANGLE, SHIELD
FRAME MATERIAL: PLASTIC
LENS MATERIAL: PLASTIC
CASE TYPE: POUCH
EYE SIZE: 68
BRIDGE/TEMPLE SIZE: 00/130
LOOKS BEST ON THESE FACE SHAPES:
OVAL, ROUND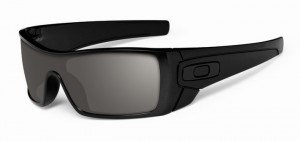 OAKLEY BATWOLF REVIEW:
It's not about being big or bad or bold. Oakley Batwolf™ sunglasses are about original style, and it's a clean look of authenticity that makes the statement. A single continuous lens sweeps across a comfortably lightweight O Matter® frame.
The icons are interchangeable and two sets are included. They stay secure with hidden latches until you're ready to swap them out with a new color. It's fast and easy, and it lets you change your look in seconds. We also designed Batwolf with dual cam hinges that blend smoothly into the sculpture. This unique sunglass has a Three-Point Fit that keeps the optics in precise alignment, and we designed the frame to fit comfortably on medium to large faces.
With all that coverage and curvature, you'll have added protection. Batwolf meets the uncompromising standards of ANSIZ87.1 for high-velocity and high-mass impact resistance, and the Plutonite® lens blocks 100% of all UVA, UVB, UVC and harmful blue light up to 400nm. Clarity is key, and single-lens Oakley designs like this take advantage of Polaric Ellipsoid™ geometry to keep your vision sharp at all angles of view. Optical performance meets ANSI Z87.1 standards for clarity and visual fidelity. You can choose lenses with Iridium® coating to reduce glare and balance light transmission, and if you want full-on performance, you can get Oakley HDPolarized lenses. They're the best polarized lenses on the planet and they block 99% of blinding glare that can wash out your vision with haze.
SPECIAL EDITIONS:
Drawing on designs inspired by artists, charities, sports and the athletes who play them, Oakley Special Edition sunglasses combine the world's finest optics with some of Oakley's favorite causes. From Infinite Hero to the official eyewear of Major League Baseball®, Oakley Special Edition sunglasses help you wear your heart on your face.
FRAME:
Interchangeable Square O Icons
Comfortable fit on medium to large faces via extended wrapped frame geometry
Precision and durability of sculpturally integrated hinge mechanisms with dual action CAM
Durability and all-day comfort of lightweight, stress-resistant O Matter® frame material
LENS:
Oakley HDPolarized –Minimized glare via technology that produces the best polarized lenses on the planet with greater than 99% polarized efficiency
Optical precision and performance that meets ANSI Z87.1 standards
Impact resistance that meets ANSI Z87.1 standards for high-mass and high-velocity impact
UV protection of Plutonite® lens material that filters out 100% of UVA/ UVB/ UVC& harmful blue light up to 400nm
Glare reduction and tuned light transmission of Iridium® lens coating (optional)
ACCESSORIES:
Additional pair of interchangeable Square O icons included