I remember growing up and having to wear prescription glasses, to me that was the most awful thing that could happen. Well now wearing prescription glasses is a cool thing; some people even wear them with plastic lenses to go along with the trend.
The trend first started in the 1950's when these thick, big dark frames became fashionable. Ever since they have resurfaced you can see Hollywood celebrities; both men and women are rockin' this look. The look is so popular that celebrities like Anne Hathaway and Scarlett Johansson are wearing them to award ceremonies and movie premieres.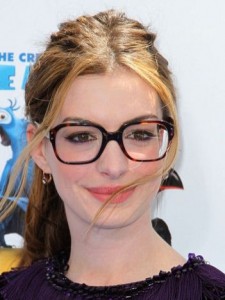 The most popular brand for these glasses is Ray Ban; they have what we would consider the "real" nerd glasses. When you think of those types of glasses your thinking of the Ray Ban RX5121 2000, which has the very thick frame and squared a shape. If you're still not sure about this look fashion brands like D&G and Versace have done their own take on these types of glasses.
Let's be honest not all of us can pull off the Ray Ban style; for some they might look too strong on the face. So it's good that these fashion houses have actually done a toned down look. The frames for these are a lot thinner, aren't really squared and are smaller in size.
Don't be scared to try the look, even if you can't go for the "original" nerd look. There is a frame out there which is "softer" looking and why not try and give this look a 2011 kick to it and go for ones in color rather than black and tortoise.
Here are a few tips to consider when wearing the glasses, you don't want to look like you put together a costume, and you'll just look like your trying way too hard to go along with the trend.
•Keep your style simple, the glasses are already making a statement.
•Go for the androgynous look; wear boyfriend jeans and blazers etc.
•Keep your earrings simple, go for studs, if you wear long ones your face will look to busy.
•Keep your make up simple, no crazy eye shadow; go for a nude color palette.
•Make your lips pop with a great lipstick.
Get the look: