So, you're looking for a new pair of frames and wondering, hmm…. what should I get? Large frames are back and you know you want a pair! Not sure if you can pull them off? It's time to get a pair and find out.
1. People will stare. Be prepared for people to look at you, tell you that your frames are cool and always ask you where you got them. Sometimes, you might want to keep that to yourself so no one can rock the same pair as you.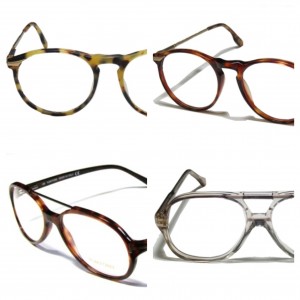 2. If you're buying your first pair of awesome frames, don't go too slim on the frame. Don't be scared to rock something different – eventually – you'll be glad you made the choice you did.
3. Not every frame shape looks good on every face. Try them on before you buy them (shape that is,) that way you know what to get and won't be disappointed if you buy a pair online.
4. With black, it's all about shape.
5. Nerd or not – go with the nerd look.
6. Have 3-5 pairs in rotation – these things are on your face! What's the first thing people look at when they see you or meet you? Yes – have 3-5 pairs in rotation.
7. Keep it simple – keep it cool.
8. Anything in tortoise is cool.
9. Frames say a lot about your character. Choose wisely and choose something that suits you – not anyone else BUT you.
10. A pair of glasses makes a statement. What's yours?
SEE THE SHADESDADDY.COM PICKS: RETRO EYEGLASSES