We all want to rock the latest fashion, and we see how celebrities just seem to rock every trend that is out there and all of the m look good on them. The latest trend we are seeing is wide legged pants; they are seen for both casual and more formal occasions.
Some us may be skeptical with this trends, after all we aren't all Heidi Klum with legs that are miles long. In my opinion everyone can wear all the trends out there, all you have to do is know what best fits you as well as how to show off your best features.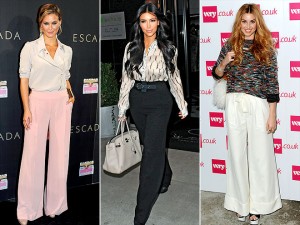 So how should you rock the wide leg pant trend?
Tall Women– You have it easy, you can wear it with just about anything when it comes to tops. Play with the volume of blouses and the length of jackets. Just keep in mind that the trousers are wide so belt the top (if it's voluminous) so you don't look sloppy and you are actually able to show off your body under all the fabric.
Average Height and Petite Women– We have more of a challenge with these pants, even though they are suppose to be wide try getting ones that aren't' t too wide. If you get one's that are too wide you will just get lost with all that fabric. Pair the pants with fitted tops and jackets which are no longer than hip length.
So now you know what you should aim for when rockin' this trend when it comes to height. Here are other things you should keep in mind regardless of height.
• Tuck in the blouse, that way the outfit looks structured and well put together.
• Wear them with heels; flats make the look seem clunky. I would rather see this look with wedges or platforms as they hold the wide pants.
• Use a belt; this will give it a finished look.
• Play with accessories in order to make the look casual or formal.