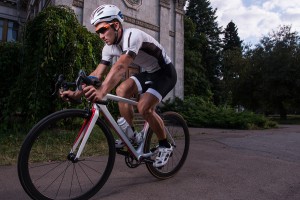 Most of us enjoy cycling, as it is one of the best forms of exercise. In order to have a comfortable ride without the sun hindering your sight, a good pair of sunglasses is a must. Along with adequate comfort and protection, sunglasses should also add oodles of style to your personality.
The Smith Optics Pivlock V2 Max is a good option for all those with medium to large shaped faces. It comes with three very unique lens options and offers adjustable nose pads for added comfort. The 'max' lens comes in a larger size and therefore provides the best coverage, which makes it highly suitable for all your cycling escapades.
Another great option for regular cyclists is the collection by Oakley. It is a highly reputed brand that offers a wide array of sunglasses and one can pick and choose based on their preferences. The Oakley Racing Jacket is best suited for cyclists in many ways. It is available in six vibrant colors and contains two changeable lens options. Lenses can be conveniently changed in a jiffy with the use of Switchlock technology. One remarkable feature is the presence of adjustable retaining strap as it ensures that your sunglasses remain stable and intact in its place even when the ride gains speed and enthusiasm.
Another recommended Oakley model for cyclists is the Oakley TDF Collection Radarlock Path Sunglasses. It supports the feature of interchangeable lens facilitated by the Switchlock technology. The lenses are composed of Plutonite that acts as a sturdy barrier against harmful UVA and UVC rays of the sun. The coating of Iridium on the lens effectively succeeds in reducing the glare and also balances the transmission of light. This feature offers utmost comfort to the eyes; reduces fatigue due to over exposure of light and helps to create a balance in harsh lighted surroundings. The O Matter or Polycarbonate frame is absolutely light and comfortable on your temples. It is highly durable and handy for all your cycling adventures.
Yet another good option is the Oakley Team USA Flak Jacket XLJ Sunglasses. The Plutonite lenses not just offer protection again the harmful rays of the sun, but they also promise enhanced vision and clarity. The Hydrophobilic Oleophobic coating on the lens is resistant to any form of smudge or blurriness cause by sweat or fog. The base of the lens is calculated up to a curve of 8.75 that enables the maximum peripheral coverage and blocks out the sun during the challenging marathon or training sessions. The adjustable nose pads just add to the many benefits and overall it serves as the best option for aspiring and experienced cyclists.
TOP CYCLING SUNGLASSES PICKS:
Oakley Radar Path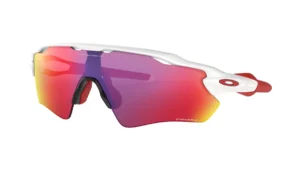 Oakley Flak Jacket