Are you on the hunt to find those deadly perfect sunglasses for yourself that can truly flaunt your personal style? Looking forward to making a distinguished style statement amongst your peers? Well, you have landed at the right place!
Selecting sunglasses can prove to be quite some challenge, especially when intricacies like face shapes and sunglass styles get involved. What looks absolutely dashing on your optician's countertop may look the exact opposite while you are wearing them. The trick is to choose one which suits your face, not your eyes!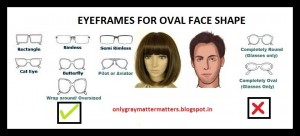 So what is all the fuss about face shapes? How exactly does it influence your sunglasses selection? Here is everything you need to know to get the perfect frames for your face.
Keep Scrolling and we'll give you some ideas on the perfect pair of sunglasses for an oval face shape.
Everyone has a different face with distinctively unique characteristics. However, when you put everyone's pictures into a common database and try to find commonalities, you will realize the entire world's population can be categorized according to six face shapes – square, oblong, round, diamond, heart and the very lovely oval shaped face. To keep the story simple, only the oval shaped faces will be discussed this point onwards.
An oval shaped face has the following distinctive features:
A narrow forehead and jaw line
The chin is slightly narrower than the forehead
High cheekbones
An overall oval shape in mostly balanced proportions
If you have an oval shaped face, you are extremely lucky as you will have a wide assortment of styles open for trial. The aim behind identifying the face shape is to help you sift through the never-ending variety of sunglasses. This, in no way limits the scope of your choices.
Sunglasses That You Must Try
As stated previously, oval shaped faces are quite lucky. If you are one of these lucky ones, you would be surprised at how every frame simply seems to have been made just for you! That is possible due to the balanced proportions of your face – so whatever style you try on, it sits in perfectly!
However, if you are absolutely short on time or you are looking for a guide to shortlist your options, here are a few frames you definitely must try out.
The square sunglasses give a crisp and disciplined look. You can choose a frame with some embellishments to soften up. Make sure you try these out while selecting your sunglasses.
Rectangular Sunglasses
These are a little elongated horizontally as compared with the square ones. These add a touch of glamour and confidence to your outlook. You might be able to find the best one quite easily!
Geometric Patterns
Since your face is proportional and balanced, you can try out any of the geometric patterns that are symmetrical. These have the capacity to blend in with ease.
The Only One Consideration!
You are lucky to have a wide variety of choices to decide from. However, there is one thing you should keep in mind while making the selection. Try to avoid those frames that seem too big for your face. These will cover up a lot of your face, making it look smaller and overloaded. Whenever you try a frame, take your time to evaluate it from every dimension. You will get to know all your angles!
 >> HOW TO PICK THE RIGHT LENS FRAME FOR YOUR FACE SHAPE <<