Now that the cold weather is finally approaching, we will finally be able to the rock some boots without looking ridiculous. The boot that's a must have in your closer; for both style and comfort is the wedge boot, it's the perfect fashion accessory for the season.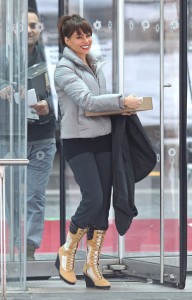 The great thing about these boots is that you can find them in different height and styles, you'll find one's that are adequate for day or for a night out on the town. Another plus about these boots is that they are so much easier to walk in, so if you are rockin' them where it snows you'll be less likely to slip, cause we have to admit stiletto boots are a mission to walk in the snow.
So what should you wear your boots with?
• If you are using knew high wedge boots, stay clear of flowy or gathered skirts this will only make you look bulky.
• A style that looks good with both knee high or ankle wedge booties are miniskirts or shorts. Pair both types of boots with patterned tights for a fun day look. Now if you're going for an office look wear the skirt a bit longer and use black patterned tights, if you're more traditional just wear the plain black tights.
• Wear them with skinny jeans or leggings these will look good with both ankle or knee high wedge boots.
• When pulling the trend with a dress stay clear of the knee high wedge boot, you will look bulky; now if you think you can pull it off go of it. I would personally rock the ankle wedge boot when going for this look; if it's too cold just wear some woolly tights.
My last piece of advice for you with this look is to stay CLEAR of wedge boots beneath bootleg jeans; you will look like you are stuck in the 90's. Like I have said before don't take these guidelines to heart if you think you can pull of the trend with any type of clothing go for it!