We tend to believe that fashion shows are always a bit over the top (I'm not saying I don't like it) and in order for us to make these looks wearable one has to tone it down. Even though this is the case sometimes, it's not the case for one of fall/winter 2011.
This season trend is sure to make you absolutely incredible, the trend you ask? Chic minimalist. The trend has proved that you don't have to go over the top with accessorizes in order to look amazing. Here is where the infamous phrase less is more, becomes handy.
The trend is all about simple lines and soft colors, so if your one who is more simplistic when it comes to fashion, this trend is perfect. The lines enhance femininity and gives you and elegant look, one cannot go wrong with it and you'll be going along one of the latest trend.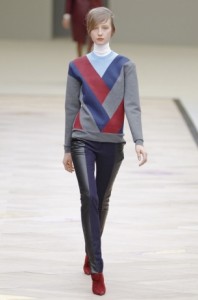 So what are the must have items to pull of this look?
Straight trousers
Turtlenecks
Pullovers
Leggings
Jackets which are simple, the length is up to you
Vests
Even though the color palette is soft (camel, white, etc) don't be scared to mix bright colors with these hues, but remember to keep it simple. When you add this contrasting color the outfit will look a bit edgier.
Like I said above, less is more, so don't over the top with accessories, here are a few examples of what to do when it comes to pulling this look off:
If you want to accentuate your waist use a simple belt around your turtleneck, jacket or vest.
When it comes to fur keep the colors solid, no print for this trend.
Keep the hairstyle simple, try putting it up in a sleek ponytail or keep it down, but out of your face.
The makeup should also be simple, if you're used to edgier makeup go for a bold color on the lips, but keep the eye shadow with soft colors.
Just keep in mind these rules and you'll be sure to be noticed with this simple chic trend.