Fashion is all about mixing pieces that you wouldn't normally wear together and make them look good. Lately the new fashion DO is to wear denim shorts and blazers, but how can this work without looking too trashy?
First you have to start with the right pair of shorts, the length and width of them is crucial. Here are a few simple rules to follow: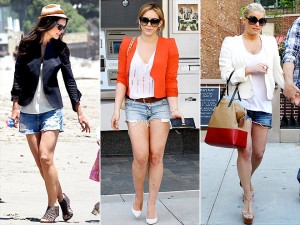 Now to find the right blazer; the silhouette is up to your personal style., do you like the preppy or laid back look.
•If you decide to get shorter ones, choose them a little loose around the thighs; you want people to think that these shorts are yours not your little sisters.
•If you're wider around the thighs go for ones which are a bit longer, this way it won't bring the attention to your thighs.
•If your petite you can go for one's which are shorter if you choose one's that are too long it will make you look shorter.
•Go for ones which are fitted, that way it will look very clean and chic if you want more of a relaxed fit find ones that at least have some structure you don't want to hide your body beneath all the fabric.
•If you're short, look for cropped blazers, that way it won't weigh you down and make you seem shorter.
•For longer blazers; pair them with a nice fitted shirt so you don't look frumpy, but choose one's that are above the thighs.
•If you choose longer ones it might seem you're literally wearing your boyfriend's over sized blazer.
If you're going to rock this look for cocktail hour and feel skeptical on wearing shorts pair them up with tights and a pair of pumps and your ready to go. You can also wear this look to run errand s again you can pair it with tights. Pair them up with cute ballerina, sandals or oxfords. If you're more into the glam rock then wear them with combat boots or sneakers.