One item that I have not stopped seeing amongst celebrities are the jumpsuits, they were all over fashion shows for fall 2011. Some of you may cringe at the idea of wearing an onesie when out and about, but you can't help but be curious as to how you're going to look.
So why not try it, you have a wide spectrum to choose from whether it's for a relaxed daytime look to a more sophisticate night look. So what should you look out for in order to not be fashions don't? Follow my tips and you will definitely be a fashion DO!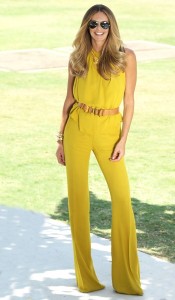 Do
• Go for a low neckline this will make you look effortlessly sexy.
• Keep it simple with solid colors; add excitement by wearing a pair of bright colored pumps.
• Wear flats, this is perfect for your day time look.
• Silky fabrics in dark colors look great for fall.
• Opt for jumpsuits with higher waistlines your legs will look miles long.
• Wear a belt, this will accentuate your waist and show off your curves.
Don't
• Please avoid prints which are over the top you will look crazy.
• Go crazy with accessories stick to one statement piece whether it's a necklace or statement ring.
• Buy a jumpsuit which is too long, it will only make you look shorter.
• Avoid leather! You are not auditioning for Catwoman.
• Don't go over the top with the plunging neckline.