Out of all the sunglass brands out there: Prada, Dolce & Gabbana, Versace, Carrera – to name a few – none can compare nor offer a customer the option of choosing any pair of shades under ONE same brand depending on what you feel like purchasing or what appearance you fancy from such a diverse repertoire like Ray Ban does.
They have an extensive [if not the biggest] collection of sunglasses in the world; they are so iconic that they have become the trend setters and first original designers for many popular styles such as Wayfarer and Aviator, which other competitors have tweaked to design similar looking pieces with their own emblem.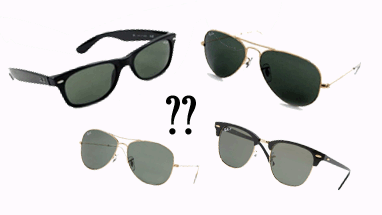 Founded in 1937 by Bausch & Lomb, Ray Ban (RB) is a high end Italian manufacturer of sunglasses with the largest collections and designs. They include seven main categories: Active Lifestyle, Highstreet, Icons, Tech, Junior, Fast & Furious and Craft. In the Icon category you find some of the most popular [hence the name of group] styles such as: Aviator, Wayfarer, Clubmaster, Cats, Caravan, and Rare Prints. Jackie Ohh and Cockpit (a shorter tear version of the Aviator) can be found under Highstreet.
Each of these styles carries a unique design that represents identity and personality to anyone wearing them. They're not only different in shape, but also exclusive when it comes to the colors and models RB offers per style. Below is an in-depth analysis on some of these sunglasses and how each of their distinctive look describes the personality and fashion of the person wearing them.
Aviator: Aviator sunglasses were given their name due to their oblique teardrop shape, which matched those of the smoked-lens flying goggles. They have been popular since the 1960's; more so following pop culture references of Michael Jackson, Paul McCartney and Ringo Starr, and later used by celebrities in films like Top Gun, where Tom Cruise trademarked his character's look sporting a pair throughout the entire film.
People wearing Aviators are those with a more traditional, American-fashion taste. Frames vary from gold, silver and black with G-15 and B-15 lenses. They are sunglasses worn by those who want to look good, but don't have the time or creativity to think much about how to accessorize their outfit according to what is considered 'trendy' during that season, so the easiest thing is to put on a pair of these always classic yet stylish shades and go their way knowing they are looking good no matter what.
Wayfarer: According to design critic Stephen Bayley, the "distinctive trapezoidal frame spoke a non-verbal language that hinted at unstable dangerousness, but one nicely tempered by the sturdy arms which, according to the advertising, gave the frames a 'masculine look'." Wayfarers, which took advantage of new plastic molding technology, marked the transition between a period of eyewear with thin metal frames and an era of plastic eyewear. They won immediate recognition in the 60's when celebrity icon Audrey Hepburn wore them for her defining role in Breakfast at Tiffany's. After sales declined, Wayfarer's cultural popularity was boosted yet again in the 80's thanks to the classic film The Blues Brothers when the characters of the movie made them an essential part of their outfits.
What this sunglass describes is a nonchalant and extremely groovy personality. Wayfarer users are relaxed, happy go-lucky and most likely to use a lot of colors and futuristic combinations in their clothing. They don't care about what people think or how they are being perceived as long as they feel good about themselves.
Clubmaster: Brow-line glasses were very popular during the 1950's, especially in the United States. The name derives from the fact that the bold upper part of the frame borders the lenses the same way eyebrows border the eyes. Also referred to as "Clubmaster", these glasses have been worn by a variety of historic personalities such as Malcolm X and Jim Garrison, and fictional character Mr. Orange in Quentin Tarantino's Reservoir Dogs.
Quiet and intriguing is the image this frame gives its wearer. They are not only available to be worn as sunglasses but one can add prescription and use them permanently as eyewear. Clubmaster wearing people are usually hippie and they distant themselves from the idea that the way people dress could be a reliable signal of who they are. They are artists, musicians, writers, designers or anything else creativity sparks.
Cat Eyes: These popular 50's glasses have thick rimmed borders with the temples connecting the lens frame at the very top corners. This outline stretches a little longer than ordinary frames and is slightly arched giving it the look behind its name – cat eyes. They are extremely popular amongst fashionable women. Notable wearers include Marilyn Monroe, Barbara Windsor and Amy Lame.
They are considered vintage and very chic. Women wearing these frames are more likely to dress elegant and less sporty. They are into the latest fashion and trends and they don't care about how much they have to spend in order to look good. Cat Eyes accessorize well when dressed in business/casual attire and cocktail dresses as they represent glamour and femininity.
Cockpit: This frame gives the classic Aviator style a modern twist with smaller, less dominant lenses. Mostly worn by men this popular style has been spotted on celebrities like Jake Gyllenhaal and Matthew McConaughey.
Like the Aviator, Cockpit represents the modern yet classic American fashion.