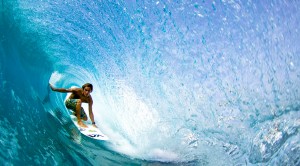 Surfing is an awesome sport and is most enjoyed when the tide is right, even better if you have the best surfing gear at hand. Sun can be quite harsh when you hit the waves and in absence of proper protection, you can do more harm than good. Hence begins the search for the best sunglasses that surfers wear. Gladly for you, the search ends here!
There are many names in the eyewear industry to reckon with when it comes to quality sunglasses. With high variety available in their eyewear section, there is almost always something for everyone. With its unrivalled performance and technical brilliance, Premium brands come up with sunglasses that have been engineered to perfection. Other names such as Von Zipper and Electric never fail to amaze its surfer customer base with the high performance eye gear.
Apart from their popularity, the one other thing that is common with these brand names is its commitment to logical design. Surfer's sunglasses need not only strong UV protection from the direct sunrays but also strong ventilation system that can help dry the glasses quickly while staying put on your eyes. The last thing you want while surfing is a pair of sunglasses that refuse to fit to your head! It is not only an annoyance but also a safety hazard.
Within Electric, Von Zipper and Oakley, there are many variants that are suitable to people as per their specific preference. The innovative lens technology used prevents distortion and also helps in increasing the perspective of the wearer so that he can see accurate images.
When you are looking to buy one for yourself, you need to choose one on the basis of comfort, style and function. The sunglasses should be light but also snug when it comes to fitting. These sunglasses come with hydrophobic lens coating which is helpful in repelling water. With proper ventilation, your sunglasses are prevented from fogging, especially if you are surfing the cold waters. They also have 100% UV protection and you can check for an added layer of protection offered by anti-impact. It is only obvious to expect that the glasses should be shatter proof to avoid any accident.
Oakley has a rather impressive collection for the surfers. One can choose from Frogskin to Crankshaft and many other models that are suitable as per your activity level. Von Zipper and Electric too have many options for the surfer to choose from. No matter what you pick, make sure that they are compatible to your requirements till the end.
Surfer Style Favorites: