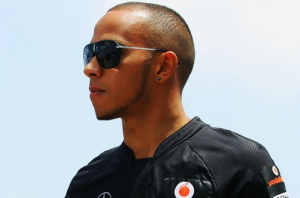 Sunglasses are trendy. They are symbols of fashion and often portray a sense of confidence in the wearer. Today, wearing sunglasses is indeed trendy. While the trend has become of age, the battle of brands now top as factors before buying that trendy sunglasses. A look at Lewis Hamilton, the cool looking Mercedes guy who drives powerful wheeled monsters along and across zigzag tracks at murderous speeds, you see confidence and a sense of style. What sunglasses does Lewis Hamilton wear indeed is a question worth asking around. It would be fulfilling to know the brand name and its original manufacturer.
We are talking about a Mercedes Benz brand representative sporting another big brand. Mercedes would want their driver to look equally trendy as the brand he represents. Lewis has never disappointed either; he sports the Emporio Armani, one of the world's trendiest and pricey designer sunglasses. And that's Lewis Hamilton for you.
At the 2014 Malaysian GP and the Australian GP, Hamilton was wearing the dark Emporio Armani sunglasses to protect his eyes from the Australian and Asian scorching sun. The guy loves them and he wears the Emporio Armani EA4002 model only. It is indeed a unique one and costs $100. He was last seen in Melbourne for the Australian Grand Prix wearing this brand and model. (Check out some Armani in our OVERSTOCK section here.)
But the Mercedes guy is dynamic. He does not only rely on the $100 Emporio Armani but often wears the trendy Gucci GG 1065/S Sunglasses that cost $200. He was caught on camera sporting the trendy sunglasses at the 2014 Monaco GP.
That is not all, Hamilton's love for sunglasses do not end with the big lens Gucci GG 1065/S sunglasses. At the 2013 British GP the Mercedes driver was seen wearing Louis Vuitton – Suspicion Sunglasses. In both Canadian & British GP's, Lewis Hamilton did wear the Louis Vuitton – Suspicion Sunglasses.
Hamilton also wears the handmade Italian Retro Super Future Sunglasses. The dude loves keeping the trend viral as his endless crave for sunglasses keeps spreading. These designer sunglasses are some of the most unique and fashionable sunglasses worn by celebrities.
The three brands worn by Lewis Hamilton, Louis Vuitton – Suspicion Sunglasses, Emporio Armani, and the Gucci GG 1065/S Sunglasses shows that wearing sunglasses is not only trendy and fashionable but it depicts an image of someone full of confidence. Louis Hamilton is a driver with Mercedes at the Grand Prix motor sport, a very highly loved motor sport game. Hamilton has won the GP severally for Mercedes.
However, looking through many pictures of LEWIS HAMILTON in SUNGLASSES, he wears many different brands but always sticks with AVIATORS or WAYFARERS style sunglasses.