Unlike the edgy rock stars that wear everything in black and even color their toe and finger nails black, Bruce Springsteen is an icon who aged quite gracefully and still looks quite dashing although he is 60 plus years old. Known for his very realistic dressing choices, with an occasional stray into a hair de job that doesn't quite suit him, Springsteen rocks the average American look in jeans, slightly worked t-shorts and plaid shirts with an occasional denim jacket sometimes thrown in. Vastly impressed by the "King" Elvis Presley, he has not emulated his style but anyone can see that In his prime, he has maintained a physique quite similar to that of the legend and sported some trendy styles, even when it came to his sunglasses.
The singer is lucky to have a very good face cut for sunglasses. There is something for all face types, make no mistake about that. But Springsteen has that full-bodied look even in his face that looks smashing when he steps out in his favored pair of Ray Ban aviator glasses. With typical slightly oval lenses and narrow handles, this pair too has suited his casual look quite well. He has often been clicked wearing this pair even while wearing bulky winter clothes or when he has teamed his outfit with a casual scarf around his neck. Grey colored lenses and silver handles is what he prefers when it comes to his Ray-Ban. As a rock star, performing in different parts of the world with high energy, stamina and resistance levels, one prefers wearing comfortable clothes rather than those skin-tight leather pants and jackets that look really well in music albums but may be sheer torture on-stage with hot lights and a heavy fender to carry. So what we are looking at in Springsteen is that he usually wears a cool pair of jeans in varied hues, ranging from the standard blue to black and grey ones to some designer ones, paired with a simple shirt or denim or leather jacket. He has also rocked the sleeveless jacket look, which not many can do, with his cool pair of Ray-Ban shades.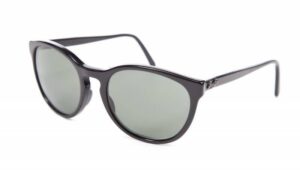 His face type is well-suited for tinted black, big lenses and thick handles; the sunglass rests very well on his face and does not give it an over-empathized look. He has been photographed on many occasions sporting these kinds of sunglasses, both for formal and informal occasions. There have been so many men who have oohed and aahed over the singer while he performed his hits such as "Born to Run" wearing these glasses. Another pair of sunglasses that he has preferred is a palladium grey pair.
Want to get the Bruce Springsteen look? Get a pair of any AVIATORS here.