Shorts are a hot item this fall which is really refreshing, since we are not confined to long pants this fall. We see more women wearing shorts to formal events or for a day running around town. So it's no surprise that designers are re vamping shorts, to look more glam with sequin!
Don't think show girl, there are ways to wear sequin shorts without it looking too costumey. So how can you do this? First thing you have to do is get the right pair of shorts, do not get them too tight or short. We want to look fashionable and not like we are about to go onstage to perform.
Here are a few ideas as to what you can pair them up with, depending on the look you are going for.
Sophisticated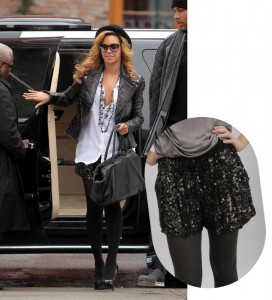 Night– Pair the shorts with a fitted top and pair it with a blazer, you don't want to show too much skin. If you don't want to wear a blazer pair it with a flowy blouse and killer stilettos.
Day– Wear them with loose cotton t-shirts or pullover sweaters, pair the look with feminine ballet flats.
Grunge
Night– The look we are aiming for seems like we threw this on without thinking about it and still look fabulous. Pair the shorts with an oversized top (again you can add a blazer) and pair these with wedge boots.
Day– Pair the shorts with an oversized sweater or try it with a t-shirts and a military inspired blazer. When it comes to shoes rock the look with military boots.
Another thing you should keep in mind is that both look scan be worn with tights. So if you want to wear a sleeveless top rock the tights that way you are balancing the amount of skin shown. Please don't go over the top with sequin, so don't try and match the shorts with a sequin top or blazer.