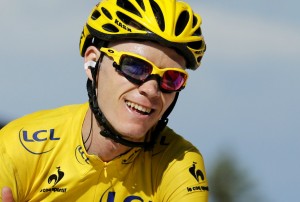 Chris Froome, a celebrated professional cyclist has inspired many an aspiring sportsman. This British road racer won the 2013 Tour De France and further cemented his place as an athlete to watch out for. His style quotient has also been a talking point amongst enthusiasts and we'll discuss his eyewear with this article.
A loyal Oakley's fan, Chris Froome has been consistent with his choice of eyewear. He's almost always seen in Oakley's Racing Jacket sunglasses. Be it a racing event or just a casual outing, you'll always find these beauties on him. Let's take a better look at what exactly makes these sunglasses Chris Froome's go-to choice:
The stylish yet perfectly suitable for sportswear, Racing Jacket sunglasses from the house of Oakley have created a niche for themselves in the market. With the use of Oakley Switchlock technology, these shades provide razor sharp vision and clarity. The adjustable side handles of the sunglasses further add to their convenience and makes them the perfect selection for outdoor activities.
The High Definition Optics lens automatically adjust to different environments and offers clear visibility. To amp up the style quotient, the lenses are available in various colours you can choose from, depending on your mood and the exterior environment. These ultra-premium sunglasses, a favourite of Chris Froome have proved their versatility and durability time and again.
The next time you step out in to the open for any adventure sports, whip out these amazing shades and experience their comfort and outstanding build for yourself. The ANSI Z87.1 standards for high velocity and high mass impact also make these eyewear special. There are other optical lenses sold separately that you can add to your collection and use depending on your requirements. These lenses include Oakley HDPolarised, with its glare-cutting performance, Oakley Photochromic for lenses that adjust according to different lighting and lenses with Iridium coating for balanced light transmission.
The sunglasses are equipped with a removable retaining strap that you can use during dangerous environments that might require the sunglasses to be more securely held together to your eyes. The lightweight, scratch resistant frame of these shades also contributes in making them suitable for the outdoors where you would want something light yet durable. The three-point fit holds the lenses for these sunglasses in an accurate optical alignment and enhances the clarity of vision and ease of use. The lenses are also UV-protected, so you don't have to worry about facing the sun the next time you step out in to the open.