Maui Jim started in of as a small shop in Hawaii, and they catered to surfers that were looking to avoid that glare. For five years anyone who wanted these sunglasses had to come to the island. Hester Enterprises purchased the emerging company and introduced Maui Jim to the main land ( U.S.) and they quickly became a huge success.
Amongst the most popular styles is Sugar Beach, which is a light weight, frameless and minimalist take of the classic aviator style. Even though they are light weight and may seem fragile, they are extremely resilient. These glasses are designed for someone who does a lot of sports and leads an active lifestyle.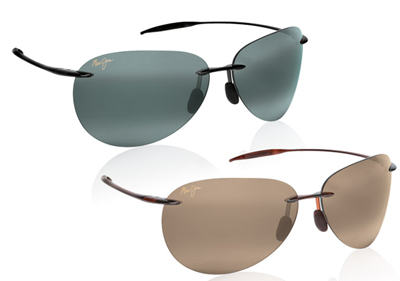 The design has rubber nose gripes, which won't let the frames slide down if you are sweaty or wet. This is one of the things that people like about them, one reviewer posted "I dare you to get them to fall off." Another thing that users like is the fact that they can wear them for long hours; won't get a headache and you won't get the pressure on the nose, so when you take them of you don't have those red marks.
The only bad review these sunglasses had was, that since they are so light weight when you put them on your head it won't hold your hair.
The lenses have the Polarized Plus2 technology, the lens is actually made out of glass and this is coated with anti-reflective coating on the back, and bi-gradients mirroring on the front. They are then given a waterproof coating. Because of this technology you will be able to see the world glare-free and distortion-free.
This specific model can be worn anywhere, from a day running errands in town to a day relaxing while golfing. This model is perfect for any occasion. Want to buy a pair of Maui Jim Sugar Beach sunglasses? —-> BUY HERE.