An outfit isn't complete without the right accessories, the newest trend now is to layer your necklaces this is an easy way to frame your face. The great thing about this trend is that anyone can pull it off, height, weight nothing is an issue with this.
You can wear this trend to work or to a formal event; if you're going to wear it to work go for shorter necklaces this way you avoid having them get in the way. If you're still unsure on how to layer necklaces', here are a few tips to sport this fashion with style.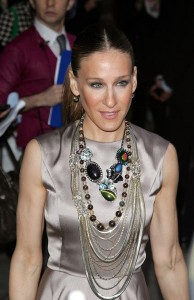 Length and Material
The first and most obvious is the length of the necklaces; make sure you pick ones that are different in length. The next step is choosing what material you want to use it can be anything from gold to plastic; watch out for plastic necklaces some might look a bit cheap. Have fun combining the different materials and color, just keep in mind the outfit you are putting together.
Width
The width of the necklaces depends on what you're looking for. You can layer really thick ones with ones that are very thin. The one think I would suggest you avoid is wearing two very thick ones; this will hide your neck too much.
Neckline
The neckline of the clothes you are wearing is also very important; I mean fashion let you interpret this any way you would like. The best though is with a V-line neck line, it gives you the right balance between skin, necklaces and material. Other necklines that will look good are deep, heart and scoop necklines.
Which necklines to avoid?
If you try this trend with a crew or turtle neck line you will lose the feminine touch and will look a little bit overwhelming. Don't wear this look if your outfit has embellishment this will just look distracting.
If you want to use this trend at night, pieces that have more bling, which will make it, look appropriate for the occasion. In order to get the look right, day or night, keep the outfits simple and remember to mix and match those necklaces to make a statement.