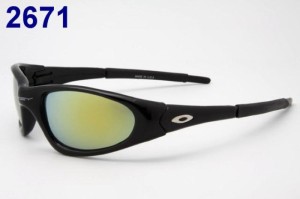 Oakley sunglasses gained popularity in the mid 80's. Due to the growing popularity of this product, some of the people started producing counterfeits. The originals cost somewhere from $90 to $400 because a lot of research has been done to develop cutting-edge optical technology which makes the sunglasses durable and reliable when it comes to vision care. So if you are getting these glasses at extremely discounted rates, they might not be original.
Steps To Determine Whether the Oakley Sunglasses Are Fake or Not
Made In the USA

The original ones have "Made in U.S.A" embossed on the inside of the arms of the sunglasses. The text can either be embossed or engraved depending on the model. You need to know that the originals are made only in U.S.A and not in any other country.

Check Oakley's Website

You can go HERE and compare your sunglasses to the ones displayed on the site. Look at the color of the frames because the original ones have metal tones whereas the fake ones have a lighter shade.

Oakley Logo

If the Oakley logo that is located on the nose piece wears off when you run with your finger or with a pencil eraser, the glasses are not original.

Quality Check

Check the quality of the frame. The original ones are made from high-quality metal and plastic and tend to be heavier than the fake ones because they are made from low-quality raw materials.

Look At the O Symbol on the Temples

Look at the O symbol on the sunglasses, because original Oakley sunglasses have a raised symbol. If you can scratch it off, then the glasses are surely fake.

Lens Stamp

Have a look at the lens stamp because the fake ones have poor printing on the lenses. To check if the glasses are fake, run your finger on the logo. If you don't feel anything, then it means that the glasses are fake because with the originals you will feel the texture of the stamp.

Sticker on Lens

Look if there is a sticker on the lens. If the glasses have the sticker then it sure is fake because Oakley does not put sticker on their lenses.