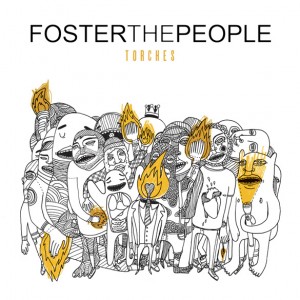 Get into some dance / electronic with the new album Torches by FosterThePeople. Came across this record and I have to say, if you like MGMT, surely give FosterThePeople Torches a listen. This band has some great songs on this record that need to be on your iPod…
Pumped Up Kicks: great melodic tune (mgmt soundish.)
Helena Beat: Electronica dance beat. 80s and new wave with a catchy melodic chorus.
Warrant: Chill electronica sound.
Houdini: Great up-beat. Powerful chorus.
iTunes Review
Los Angeles electro-indie-pop-rock band Foster the People never had much official "indie" status, having been scooped up to the major leagues within their first year of performing. After making a decent splash at music festivals and creating a serious buzz with infectious numbers such as "Pumped Up Kicks" and "Helena Beat," Foster the People are making good with a debut album that's as fresh as sunshine and as refreshing as a surf wave. The group have touches of California sunbaked pop in their repertoire, but there's also a dark Euro-disco groove lurking under the hooks of "Don't Stop (Color On the Walls)" and the thick, goth-like wash of "Waste." Singer Mark Foster plays and programs enough keyboards to give the songs a grand entrance, while other members contribute to the production to jazz up and space out tracks like "Miss You" and "Life On the Nickel." "Warrant" works under an ambient haze. "Houdini" charges with an unforgiving groove, squeaky synths and a falsetto that reaches back to the '70s disco era.
Download FOSTER THE PEOPLE: TORCHES
1. Pumped Up Kicks
2. Helena Beat
3. Houdini
4. Miss You
5. I Would Do Anything For You
6. Don't Stop
7. Life On The Nickel
8. Call It What You Want
9. Waste
10. Warrant