Even though temperatures here in Florida aren't chilly whatsoever at the moment, I'm still thinking about the coats that we all should have in our closets. I think we can all agree that a winter outfit is not complete without the right coat.
The key to rockin' the right coat for fall is to play with texture, silhouette and color. Checkout my favorite silhouette for this season.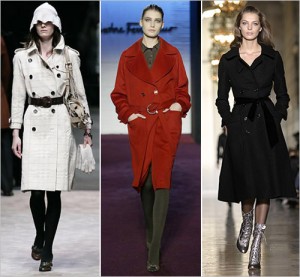 Bell Shaped– The shape for this particular coat is a bit over the top, so pair it with something simple. That way the outfit doesn't look too busy and you can actually stand out as a fashion do instead of a don't.
Sleek– Try a sleek silhouette, these types of coats will always look elegant and well put together. Another great thing about this type of silhouette is that it is totally appropriate for work or a night out on the town.
Cape Coat– I would say this is the hot item when it comes to coats. This look will surely turn heads, it's a fun and practical; just be wise as to what you pair it with.
Oversized– This will keep you warm and comfy all winter long. Pair it with skinny jeans or pants you don't want to look bigger than you really are, that way you keep the look balanced.

Belted– This type of coat will flatter all body types; the belt accentuates the narrowest part of the body.
Leather Jackets– Leather jackets are great for both day and night, giving you an edgy look.
When it comes to color we don't have to stick to dark hues, be bold and wear bright colors don't be afraid to stand out. Another color which I think is extremely chic is white; it's such a classic color and goes with absolutely everything.
Do not be afraid to mix printed coats with bold colors; just choose wisely the colors and prints you pair up. We are aiming for fashion forward not like you belong in the circus.