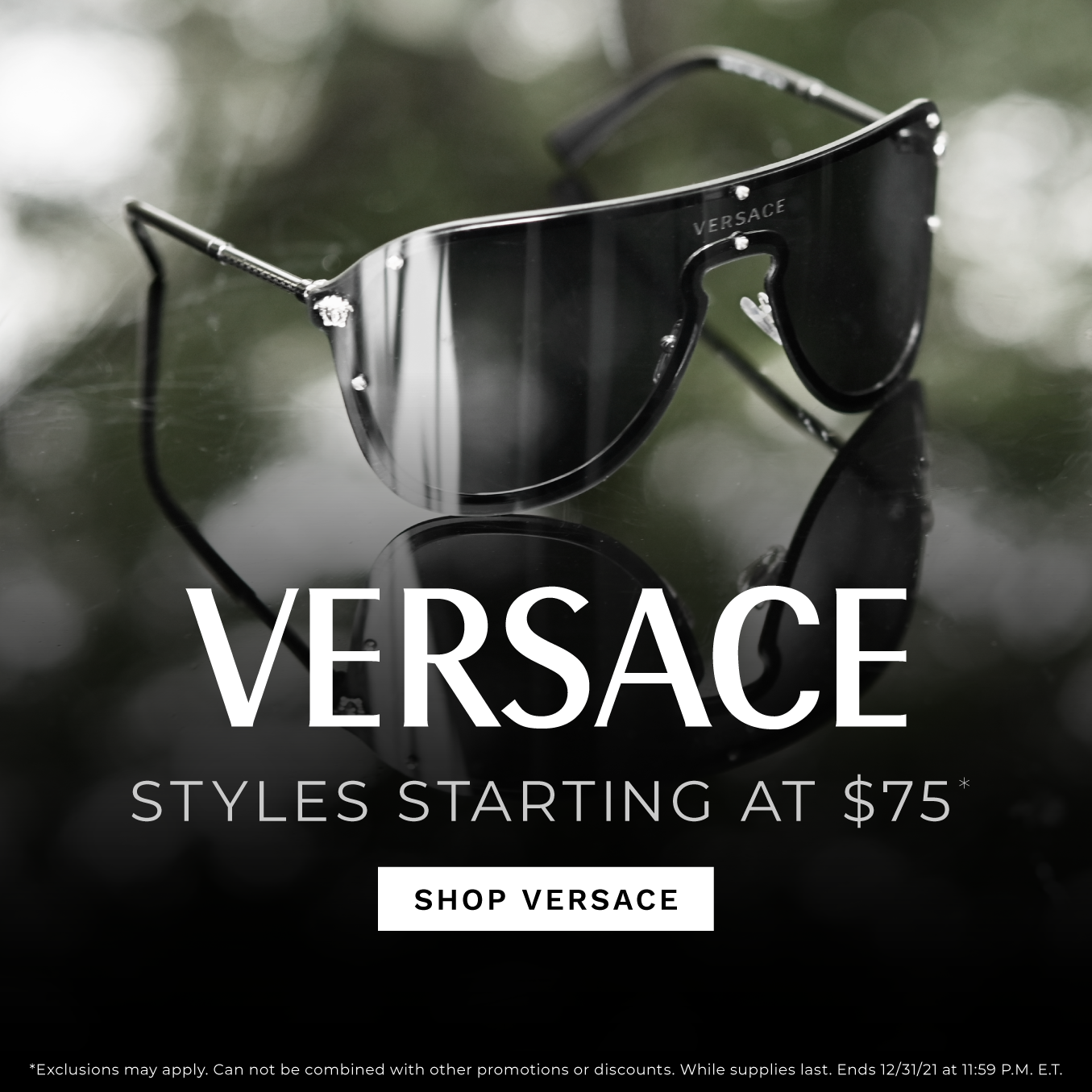 ShadesDaddy customers are in for a treat as we are holding an exclusive Versace holiday sale with eyewear starting at $75 for the iconic brand's sunglasses and eyeglasses. This offer won't last long. With our exclusive Versace sale, you get to choose from a variety of Versace eyewear and you are guaranteed they are crafted and manufactured with the latest technology and high-quality materials.
The only problem? Deciding which Versace pair of sunglasses is best for you. 
At ShadesDaddy, we're happy to provide a brief 'how-to' guide on which Versace pair of sunglasses is perfect for you.
One factors in choosing the right pair of Versace pair are your actual face shape and how it would fit with the wide array of options Versace has in its arsenal. Depending on how each frame is represented on each face will be unique to the user wearing the frames. A few small rules of thumb when considering different shaped frames:
Try not to have frames that are wider or narrower than your face. A comfortable fit is our recommendation.
Try and keep the proportion of your face to match the frames you're wearing. For instance, if you have a long face, choose a longer pair of sunglasses. And the same applies for a short face with a shorter frame.
Try not to match your facial feature: like if you have a round face, don't opt for a round pair of sunglasses. And if you have a more angular-looking face, rounder sunglasses will help soften the angles.
With a better knowledge of your facial features, pick some colors of the frames and lenses that will match your unique style. Nobody knows your style better than you, so make sure everything is aligned and looking swank.
With all Versace eyewear, there will always be a guarantee of high-quality materials in your frames. Versace uses Monel metal, which is lightweight and comfortable. This material will be able to withstand extreme temperatures and high impact. It will also be able to maintain its shape and stability.
Other materials used in Versace frames are stainless steel, which is more suitable for active wearers or acetate, which is very flexible and durable as well. It's a common choice for longer retention in maintaining the frames' luster.
Additional components that may influence one's decision when choosing the right Versace frame are the little things, such as the nose bridge sizes and temple designs and how they fit to your face. For a quick reference on which frame might fit your face best, you can easily apply a sorting filter on our Versace collection to only shop for men's and women's frames. However, many Versace sunglasses have been reviewed to have a unisex fit.
Check out these featured frames from our wide selection of Versace sunglasses:
With ShadesDaddy's new sale on all Versace frames starting at only $75, it can be tough to choose the right pair for you, but now you have a guide on best practices to get you on the right track. With Versace's wide array of styles, it's fun to find the design that suits you best.
With ShadesDaddy pricing Versace frames starting at $75, you'll be riding with Versace in style.