Fall is one of my favorite time of the year and even though I would love to start coat shopping, that is impossible for me. The weather out here is not even remotely cool, but there is one fall trend that you can start now and that's wearing colored pants.
When you think about fall the first thing that comes to your head are colors such as brown, camel, greys etc. Well fall has revamped itself this year; with bold, bright colored pants giving the season a refreshing look
Bright colored pants have been a must have during summer and spring, which means you should at least have a pair, so that's one less thing to get when fall shopping . If you don't have one I suggest you go ahead and purchase a pair there are a lot of stores which have ones at a really affordable price.
These pants look good in any type of silhouette straight – leg to high waisted, whatever your style preference you'll be likely to find one that is right for your body type and is the right color. .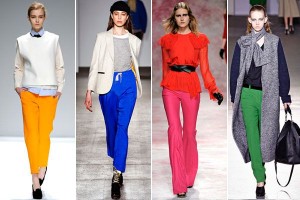 So how do you rock these different silhouettes and colors?
•If the pants have a lot of flare: wear them with heels; that way you don't look pint size, also try wearing shirts which are form fitting show off the curves ,if you wear a loose blouse you'll look tiny and frumpy.
•If you're wearing skinny jeans you can play a lot more with the look. If you want a day time look you can pair these with flats, t-shirts and a blazer, if you want to go to cocktail hour pair them up with a pair of pumps, go for a dressier top and accessorize with statement necklaces or rings. Don't over board though; the look will be too busy.
Don't be scared to mix and match bold colors, if this is new for you and you're not sure how to pull this off, then pair the pants with a crisp button down white blouse this will always look well put together and chic. Another suggestion is to wear a top that is the same hue, but is either lighter or darker.