Reality Celeb Audrina Patridge is one of today's most sought out fashion icons out there for youngsters because of her casual, yet trendy and up-to-date look.
She's constantly been spotted wearing the latest in designer brands and accessories and she looks great in almost anything she throws on.
One of the most significant articles in Audrina's always-fashionable outfits is her sunglasses. She obviously has a vast repertoire as seen below and we thought we'd make it easier on you –her followers– and give you the brands and styles she rocks so that later you can obtain them and feel a little closer to looking like this fabulous bombshell!
Let's start the countdown…
4. Ray Ban Aviators RB 3025 L0205: is one of her favorite pair as she has been photographed many different times wearing them.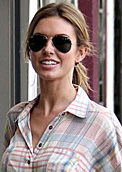 3. Another popular sunglass she looks hot rockin' is Chloe's 70's inspired cat-eye Tilia model. Leave it to Audrina to complete the outfit by teaming them with form fitting jeans and oversized blouse for the boho-luxe look.
2. Of course the always classic yet cool Wayfarers cannot be an exception on her collection: RB 2140 901 giving that 'retro' look to any outfit she wears.
1. Last but not least, Carrera's Andy sunglasses give Audrina the old-school look; yet stylish as the over-sized contour fits perfectly with her round face frame.