Want to rock a hot pair of shades? The shape and style of the Arnette Fire Drill sunglasses is on fire! While its said these frames have that 'gas station' sunglasses look, a good pair of Arnette sunglasses will never disappoint.
The frame on the Arnette Fire Drill is made from Grilmaid TR90 which is a very lightweight material so it's great for those who rock shades all day or need them for outdoor activities. These sunglasses are made for durability and have a very cool stylish shape.
The Lenses on the Arnette Fire Drill are polycarbonate lenses, which really absorbs rays which is great for any type of conditions. As an outdoors sports brand, you can count on Arnette making quality lenses. Furthermore, this style is made in Italy for great quality.
Arnette Fire Drill White/Violet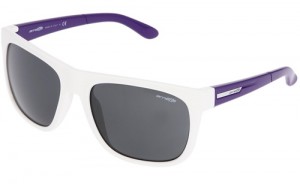 Arnette Fire Drill Matte Black Sunglasses