Men have a thing for getting the latest gadgets; well women have a weakness for the latest shoes. We see a new shoe trend hit the catwalk and we are already saving up to splurge on the new pair. Even though I believe a woman cannot have enough shoes, we can't afford to buy a new pair every time a new trend hits the runway.
So what can we do, in order to always have the perfect pair of shoes for any outfit we want to rock? Checkout the list of 11 shoes everyone woman should have in their wardrobe.
Nude Pumps: The nude color will make your legs look mile longs and the shoes match with any color. So you can rock them with jeans for a casual look or a nice dress for cocktails or dinner with friends.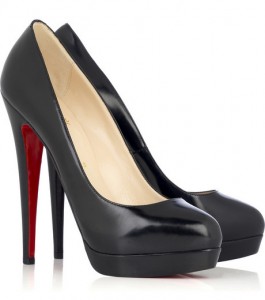 Boots– You should have two pair of boots, one with heels for a more formal look and flat ones for a casual day on the town look. How high you want them is up to you, over knee high boots are extremely sexy, but if you don't feel comfortable with this go for ones which are just under your knee.
Ballet Flats– This will give a feminine touch to any outfit weather it's a dress or jeans, you will look extremely chic. Another plus on flats is that they are extremely comfortable.
Wooden Platform Sandals– These can be worn every day, make sure you pick a pair which is comfortable. This way you can substitute them from your flats and glam up an everyday look with one small alteration.

Canvas Sneakers– Choose a color which you love, that way you look chic and comfortable on those days were you literally have to be running around town to get things done.
Black Pumps– Of course these are a must have, just like a little black dress, black pumps will get you out of any "what should I wear?" situation. You can wear them to the office or for a night out on the town.
Metallic Sandals– These will glam up any outfit for more formal events, pair them with a cute dress or black pants with a nice blouse and you have a killer outfit.
Suede Booties– If you are not into boots, this is the answer for you. You can rock these shoes with jeans or a frock dress.
Leather Sandals– Please throw away those plastic flip flops, opt for leather sandals which more chic. Pair them with a day dress for a relaxed look; just make sure you have a killer pedi.
Pointy Pumps– These again can be worn from the office to a night out on the town, the look classically chic.
Wedge– These are another alternate for flats, again choose comfy ones. If you are one that will never wear flats, these are your best friends.